Medical Billing ICD-10 Implementation Timelines
At Superior Medical Billing Solutions, we're preparing to help you transition to the new ICD-10 coding standards that take effect October 1, 2015. We are continuously training and preparing for the transition to ICD-10 coding. This training includes keeping our practices up to date on the steps they need to implement for ICD-10. As a nationwide medical billing company, we can help your practice adapt to these changing standards, 5010 being the first steps in the transition-we specialize in offering efficient, transparent, and correct medical billing services to each of our clients.
January 1, 2010
Payers and providers should begin internal testing of Version 5010 standards for electronic claims
December 31, 2010
Internal testing of Version 5010 must be complete to achieve Level I Version 5010compliance
January 1, 2011
Payers and providers should begin external testing of Version 5010 for electronic claims
CMS begins accepting Version 5010 claims
Version 4010 claims continue to be accepted
December 31, 2011
External testing of Version 5010 for electronic claims must be complete to achieve Level II
Version 5010 compliance
January 1, 2012
All electronic claims must use Version 5010 Version 4010 claims are no longer accepted
CMS extended this deadline to March 31, 2012, but Superior Medical Billing Solutions has been fully 5010 compliant since Janury 1, 2012
October 1, 2013
CMS is currently reviewing this deadline and may extend it
Claims for services provided on or after this date must use ICD-10 codes for medical diagnosis and inpatient procedures, CPT codes will continue to be used for outpatient services
October 1, 2015
The Centers for Medicare and Medicaid Services (CMS) has announced on April 1, 2014 that they will delay the implementation date for ICD-10 from October 1, 2014 to October 1, 2015.
This will give providers and other covered entities an additional year to prepare for ICD-10.
You can learn more about the ICD-10 transition timelines below, or by reviewing the ICD-10 FAQ's and Implementation guidelines for Small and Medium Practices.
If you want to find out more about Superior Medical Billing Solutions, please contact us online or call us Toll Free 888-520-9330.
Need more information?
---
Contact us to receive additional benefits.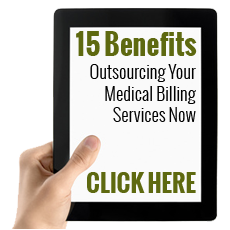 Are you getting paid in a timely manner?
---
Evaluate key components of your medical billing procedures; from examination to receiving insurance claims.
Determine How to Reduce Claim Denials, Identify compliance concerns, Eliminate Payment Delays and Increase Revenue Today by simply calling Toll Free 888-520-9330 and one of our specialists will contact you shortly.
Superior Medical Billing Solutions
29885 2nd Street, Suite J
Lake Elsinore, CA 92532
Toll Free: 888-520-9330
Phone: 951-674-4790
Business Hours:
Monday - Friday: 7:00am - 3:00pm
Closed Saturday and Sunday